Hip, Contemporary
EARLY 20's – Early 30's

Real, straightforward with a wink
EARLY 30's – EARLY 40's

Cool, Trustworthy, Intense
MID 30's – MID 40's

Solid Pro (non)-Announcers
MID 30's – MID 40's

With Splash O'Satire
SOPHISTICATED

Warm, Solid Storyteller
MID 30's – MID 40's

Young & Younger
TEENS – MID 20's

Contemporary, natural presence with texture
LATE 20's – MID 30's

Clear, Warm and Bright
LATE 20's – LATE 30's

Solid, rich pitch, sophisticated
30's – 40's & BEYOND

Clean & Clear
LATE 30's – EARLY 40's
Over the just-about-40 years I've been in the Talent Management Biz, companies with my name on them have been blessed to represent a few of the Top Voice Over talents in the Industry… folks who've voiced the likes of post-Mel-Blanc Daffy Duck, Taz, Pepe LaPew and 12 of his other characters, 20+ Krofft Brothers characters, Tiny Toons, Casper's pals, The World's Fastest Talker/Micromachines Man, more commercial V/Os than I can count, and more…
And I've gotta tell you, if you're even THINKING about getting into V/O, (and she'll be honest, it's her best trait), there is ONLY ONE COACH/TEACHER you should even consider giving your voice and money to:
Nancy Wolfson and her BrainTracksAudio!!! JUST DO IT!


Hassman Tolstonog Entertainment
You should make a demo that shows a strength that is uniquely yours. With the digitization of the industry, thereby you now compete with every talent for almost every gig. The competition is stiffer than ever.
If that hasn't deterred you, we suggest that you go to Braintracksaudio.com. We recommend Nancy, as she specializes in creating voice talent demo materials and consult on customized 'talent' business plans that will work in today's crazy new VO marketplace.
Listen to the demos on the site, each one created to make a memorable statement about the voice and stand above the rest. It's 'new school' VO.

Elynne Dale, President
The Big Fish Voice Company
Remember on our last call I told you I reached out to TMG, a big local agency here? They had me come by today and are bringing me on! She loved the demo! 


Jeff Gaetano
I began to listen 👂 once again to your Acting for Advertising series. As relevant today as it was when u guys recorded it.xo


Spike Jones Jr.
Tom Knight
Crown royal booked me for an NFL spot from a byte at the end of my demo.
Tom Knight
(Your Demo, Nancy.)
Nancy Wolfson
Tom Knight xx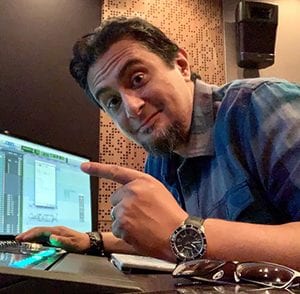 Nancy's 20+ year partner in demo production, Warner Bros. Engineer, Rick Santizo.
Re-recording Mixer, Dialogue Editor, ADR Mixer, Sound Editor, Recordist with over 25 years of experience in the audio industry.
 His studio facility experience includes Technicolor, Deluxe, Warner Bros, Sony, Roundabout/South Lake Audio, Post Haste, Capitol Records, Oceanway Recording, and Santi Studios. Re-recording Mixer, Dialogue Editor, Sound Editor, Recordist, ADR Mixer, Language Dubbing.